About Dr. Amar Mehta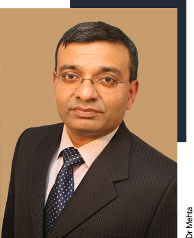 Dr. Amar Mehta holds Ph.D. (University of Amsterdam, The Netherlands) and LLM (a US law school) in international taxation. His online commentaries, books, white papers, articles, and updates are well received by the fellow international tax professionals all over the world. He is presently based in Canada, and is a former EY international tax partner.
Dr. Mehta passed the Intermediate CA exams in 1992 and the Final CA exams in 1993. He had the distinction of passing both the exams, at each level both groups together, in the very first attempt. That is considered rather uncommon achievement in India. He has been passionately focused on the subject of taxation right since his student time – in CA Final, he opted for 'Combination C'. As a result, he was the only candidate in the examination centre appearing for Tax Planning & Tax Management Exam (besides the regular tax exam).
In 1994, Dr. Mehta joined the tax department at Price Waterhouse, Mumbai. From 1995 to early 2000, he worked with the tax department in KPMG, Mumbai. During that period, he also pursued the prestigious postgraduate program of the Institute of chartered accountants of India in Tax Planning and Tax Management, which wasopen only to the members of the ICAI. That program comprised of four advance level exams on Indian taxation (including international taxation) and a detailed thesis. Dr. Mehta's thesis was on Indian international taxation aspects. Soon after completing the above-mentioned postgraduate programme in Tax Planning and Tax Management, along with full-time work at KPMG and Ernst & Young, Dr. Mehta pursued Online Master's Degree in international taxation with the law school of Regent University, the United States. That program is accredited by the American Bar Association. He obtained that degree in 2001. Dr. Mehta had a very meaningful stint as International tax senior manager with Ernst & Young, Mumbai during 2000-2001.
In July 2001, he went on to join the prestigious and highly respected International Bureau of Fiscal Documentation (IBFD) in Amsterdam, the Netherlands. He worked there as international tax Research Associate for three and half years. At the same time, he also worked on his doctorate in international taxation with The University of Amsterdam. Dr. Mehta received Ph.D. in international taxation from the highly coveted Faculty of Law, The University of Amsterdam. The Faculty's Dean Prof. Dr. Zwemmer was his promoter, and Dr. Steef van Weeghel (currently,a tax partner and Global Tax Policy leader at PricewaterhouseCoopers in the Netherlands) was his co-promoter. His doctoral thesis is published by the International Bureau of Fiscal Documentation (IBFD). In January 2005, Dr. Mehta moved back to India and joined Ernst & Young. Later, he was promoted as a tax partner with the Firm.
In May 2008, Dr. Mehta moved to Toronto, Canada and commenced his engagement with the international tax group at Ernst & Young. In July 2009, he decided to set up his own boutique practice focusing extensively on international taxation and transfer pricing.
In 2012, Dr. Mehta wrote his second book on international taxation: Permanent Establishment in International Taxation. That book is published by Taxman, a leading publisher.
Over last three decades, Dr. Mehta has extensively worked with Indian and multi-jurisdictional international tax systems, tax treaties as well as European Community Tax Law. He has deep domain knowledge and rich experience in leading complex Indian international tax engagements. He has pioneered several international tax solutions, developed and nurtured team of international tax professionals and attained formidable goals. That experiences has also helped him sharpen his practice development, project management, analytical and critical problem-solving and communication skills.
Dr. Mehta's work is regularly published on this website as well as in prestigious journals.